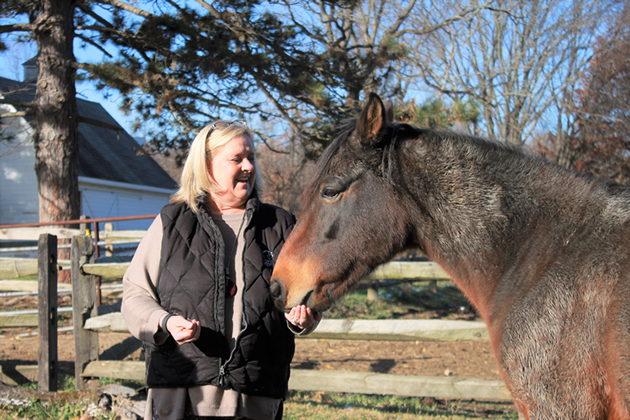 Kelly Ingleson, MRC, LPC-S
I have chosen the kaleidoscope as my symbol because it represents how I view the world. We have multiple areas to keep well in our life, including our body, mind, and spirit. They are the three points of a triangle for me. It is critical that we nurture each of the points to be a healthy person.
I use many different approaches to help individuals or families find balance. I have been using person centered therapy, mindfulness and strength based therapy for over twenty -five years. I will support your journey to a happy and healthy lifestyle. We will work together to achieve the goals that you choose when developing your personal treatment plan.
My Story
I have been married for twenty five years, raised six children, and look forward to many grandchildren. My blended family includes stepsons, a foster daughter, and biological children. One of my stepsons was adopted at birth. My family is a living portrait that all families are unique!
I am an avid animal lover. We have three dogs, two cats and two horses. Our family has been very active in 4H and I will continue to volunteer my time with kids and animals.
I am scheduled to participate in Eagala (Equine Assisted Growth and Learning Association) training which will allow me to actively use horses in therapy situations. I am very excited to share the unique opportunity for people to heal through interacting with horses. I have witnessed healing relationships between animals and humans that cannot be duplicated through talk therapy in any office!
My family is busy and spread throughout Michigan, Ohio and New York. We have a son that is an Officer on active duty with the United States Military, as well as a son in his second year at the United States Military Academy. Our oldest son is a United States Air Marshall. Our Middle son is in active recovery from SUD which has been a lifetime struggle for him and our family. Our oldest daughter is attending Bible College and planning her wedding. Our youngest daughter is a Senior in High School trying to make decisions about where she will attend College.
We have had a very busy full life raising our children. We are looking forward to traveling to see them as well as seeing the rest of the country while making those visits.
Our next chapter as "empty nester's" is unwritten. Our future is bright and we will embrace the next chapter with hopes that we will be healthy, loved and ready for new adventures.
---
My Experience:
1983 – 1987:

​The Link, Bowling Green, Ohio: ​Crisis Interventionist

1985 – 1987:

​Pemberville Boys Ranch, Pemberville, Ohio: Activity worker with long-term placement for at-risk males

1987 – 1989:

​Ricoh Corporation, Woodmere, Ohio: ​Major Accounts Manager, Sales

1989 – 1991:

Poly Recovery Program, Toledo, Ohio: ​Family counselor for adolescent intensive outpatient substance abuse treatment program

1991 – 1993:

​Sault Ste. Marie Community Mental Health Agency, Sault Ste. Marie, Michigan: ​Child therapist for all minors receiving counseling services. Facilitated recovery groups from sexual abuse as well as groups for offenders.

1994 – 2003:

​Chip Counseling Agency, Petoskey and Charlevoix, Michigan: ​Certified Prevention Specialist

2006 – Present:

​Foster Parenting that began as an emergency placement for a nine year old girl. She has remained in our care and will always be a part of our family.

2006 – 2008:

​Harbor Hall Outpatient Substance Abuse Services, Petoskey, Michigan: ​Clinical therapist primarily working with adolescents and their families. Also responsible for intakes and assessments.

2002 – Present:

Adjunct Professor, ​North Central Michigan College, Petoskey, MI

March, 2013-2014:

​Masters Level Therapist, LTBB Mental Health and Substance Abuse Program. Provided treatment and counseling services. LTBB Mental Health and Substance Abuse Interim Program Manager

2014–2016:

Program Manager, LTBB Mental Health and Substance Abuse Program

2016–Present:

Clinical Director at Bear River Health
---
Volunteer Work:
Community Grief Buster Program
Past Board Member of The Women's Resource Center
Planned Parenthood Youth Education Advisor
Hospice of Little Traverse Bay
Hospice Children's Bereavement Programs
Camp Daggett Adventure education facilitator
P.T.O. President of Ottawa Elementary School
Member of Petoskey Human Growth Committee
Co-chair of Petoskey Human Grown Committee
Soccer, Tee ball and Baseball Coach
Boy and Girl Scout Leader
S.A.F.E. Advisor for Youth programs
Petoskey High School Parent Committee
4H Horse Leader
Petoskey High School Equestrian Team Secretary
Episcopal Youth Group Parent
---
Rates and Insurance:
My rates are $175.00 for a ninety minute intake and assessment and $125.00 per sixty minute session.
I accept cash, check and credit cards. If your check is returned Their will be a $50.00 charge and any expense I incur to collect the money.
I am approved for BCBS, BCN and Meridian health insurances. I am in process of getting approved for additional insurances. You will be responsible for copay at the time of service. Please confirm that I can take your insurance before scheduling with me. You are responsible for all charges regardless of your insurance. If the claim is denied you will be required to cover cost of my services.
I will work on a sliding fee scale when need is demonstrated.